8 Do's and Don'ts of Working From Home (Plus, 4 Apps To Keep You Productive)
In the midst of the coronavirus outbreak, authorities recommend that we stay home and maintain a social distance from others.
This obviously affects our personal lives, but it also affects our professional lives, as many companies enforce work-from-home policies. For some people, working from their homes sounds great, for others, it might be a bit scary.
Either way, working from home is completely different than working at an office and at first, it might be tricky to adapt to these new work circumstances. If you're feeling a bit lost, we have all the tips and tricks that will help you be as productive as you've always been. Read on!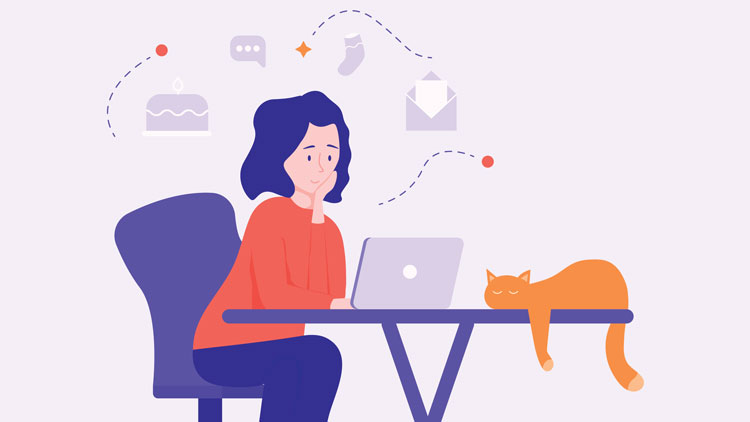 Do: Create Realistic Working Schedules and To-Do Lists
If there's one thing you need to be when working from home is organized. After all, you won't have your boss or team leader there with you, asking if everything is on track. And there's nothing like a good old to-do list to get things done!
Every morning, before you start working, update your list of tasks and use a calendar or planner to organize your daily schedule.
Don't: Start your day in your PJs
One of the perks of working from home is the comfort that comes with it - but you shouldn't get too comfortable.
Even if you're not seeing other people, it's important that you still have a morning routine, that you change into your daytime clothes, eat a healthy breakfast, prepare that life-saving cup of coffee and then, only then, start working.
Do: Have a Dedicated Office Space
Oh, the temptation of working from your bed or sofa… We know it's hard, but it's one you have to resist.
Firstly because it's important for your posture that you sit properly in front of your computer, but also because having a dedicated area will get you in the mindset to be productive. This doesn't have to be a whole room, but make sure you reserve your desk to work.
Tip: Keep your dedicated office space tidy and uncluttered. Why? Clutter will make you feel overwhelmed and, consequently, more prone to procrastinating.
Don't: Handle Chores or Personal Responsibilities During Work Hours
You get one task done, then you go and do the laundry. You get another task done, then you pause to call your parents. You go back to work for one more hour, then you go spend some time with your kids.
Doing things this way is the perfect recipe for unproductivity. Establish clear work hours and make sure you stay on working mode during that time.
Tip: Find your most productive hours and build your schedule around them. You can still make the most of the flexibility of remote work!
Do: Remember to Take Breaks
One very important thing you should do to keep your productivity levels high up is knowing when you need a short pause - and sometimes you might need a reminder for that!
Whether you put alarms on your phone or use the app we're going to talk about in a bit, it's essential for your body and mind that, from time to time, you get away from the computer. You'll give your brain time to regain energies and you'll come back feeling more motivated than ever.
Tip: Use your short breaks to stretch. Trust us, your back and neck will thank you.
Do: Keep in Touch With Your Colleagues
While working from home, you don't see your colleagues every day and that might cause you to disconnect a bit from them.
However, with all the technology there is today, it's easy to prevent that from happening and in a bit, we'll tell you about an app that makes communicating with your coworkers easier, no matter where they are. You're still a team, after all!
Don't: Get Distracted by Social Media or the News
When you know you won't have a boss or a coworker peeking at your screen, it's easy to think "I'll just check Facebook for two minutes". And before you know it, you've been scrolling down your feed for half an hour. Not ideal!
To prevent this from happening, make an effort to stay out of any websites that can get you distracted and turn off all notifications during your work hours.
4 Tools You Should Use
The eight tips we just gave you are essential to be productive while working from home but there's one other secret that any remote worker will swear by, and that's using the right tools and platforms.
Nowadays, since remote work has become such a big trend, there's an equally big offer of this sort of tools and it can be tricky to know which ones you should pick - but we can help!
Here are four that will make your telecommuting life a lot easier:
1. Breeze: For project management
Having everyone's projects and tasks organized and easily accessible is always important, but even more so when the team members are working from home.
That's why a project management tool like Breeze can come in handy for remote teams. With our platform, you can manage your team's workload, stay up-to-date with deadlines, check the status of each project and task, create a project's timeline and assign responsibilities, add budgets, store files and much, much more.
Seems interesting? Take the Breeze tour to learn more about our product.
2. Slack: For communication
Remember when we spoke about the importance of keeping in touch with your colleagues? Well, Slack will help you do so.
Slack is a chat-based collaboration tool where you can create conversations with one person or channels with multiple people. It's a great way of still having those informal conversations with your coworkers, even when you're all in different places.
3. Zoom: For video conferencing
How do you have meetings if you're not working from the same office, you may ask? Easy - you use Zoom, a video calling and screen sharing app where you can organize meetings for up to 100 participants (or 1000, if you get the Enterprise Plus plan).
4. Take a Break Please: For work breaks
As mentioned before, for some of us, working from home means overcommitting and exhausting your brain. If you have a hard time remembering to take breaks, Take a Break Please is the perfect app for you. The name says it all!
Getting things done from the comfort of your own home is perfectly possible if you internalize what to do and what not to do. You need to adapt - of course - and that might take some time, but soon you'll see that your productivity levels will be through the roof!